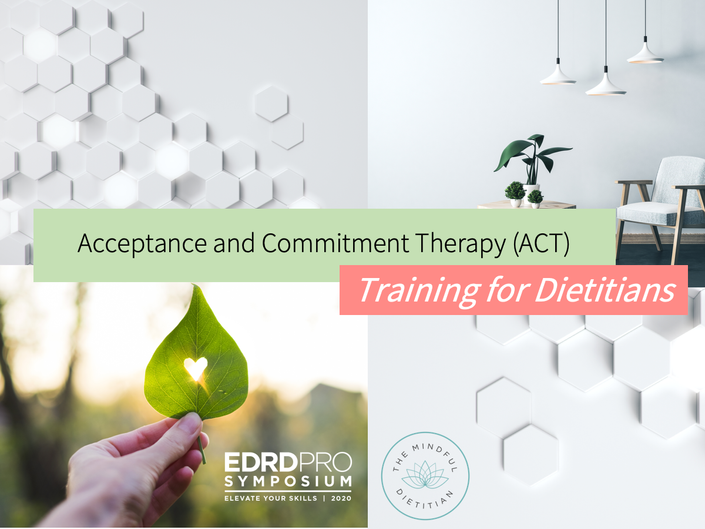 From Struggling to Thriving: Acceptance and Commitment Therapy (ACT) for Dietitians
ENROLLMENT FOR THIS COURSE IS CLOSED. We look forward to publishing an updated Version 2.0 in late 2023!
Note: CE credits for this course must be submitted to CDR on your activity log and need to be dated no later than 3/22/2023, but you may access course material until July 2023.
Overview:

Acceptance and Commitment Therapy (ACT) is a form of mindfulness-based therapy that focuses on accepting and experiencing negative thoughts and feelings while living our best and most valued lives. From Struggling to Thriving brings together 3 experts from the perspectives of psychology, nutrition counseling, and eating disorders to teach dietitians how, when and why you can infuse and use ACT in your work with clients. This course is specifically built for the dietitian who works with people who struggle with food, eating, and body image concerns, front of mind.
Structure:
There are six lessons, each delivered by an experienced ACT trainer who will guide you through the material. The videos are the recorded webinars which were originally presented to a live audience. You'll also have supplemental learning materials found in the "homework" sections which include readings, assigned podcasts, and workheets.
What You'll Learn:
An advanced look in to ACT, including a deep dive into its six core processes
How ACT is applied specifically in the nutrition counseling setting
When and why to use ACT techniques with clients
How ACT can advance your practice and help your clients thrive
Case studies and workshop-style exercises
The science of ACT (studies and additional reading materials will be provided)
A Note on Pricing:
We are aware that your local currency may not necessarily enjoy a friendly relationship with the US Dollar, and we want to offer rates which feel more equitable to more people around the world. If you are not a US resident, please contact us for a discount code on both member and non-member workshop rates by sending an email to [email protected].
We also acknowledge the systems of power which make trainings and professional development opportunities such as this inequitably available to people, such as those who are disabled, from queer/trans communities, people of color, and those in larger bodies. Those who can pay rates in full directly support those who cannot. If you would like to apply for a partial scholarship, please contact us. We will consider all applications, with priority being given to those who are most significantly impacted by marginalization. Email [email protected] to inquire about scholarship applications.
EDRDpro Membership:

EDRDpro members can access this course for a discounted rate! Interested in joining? EDRDpro is a web-based community of dietitians and other like-minded professionals who work from a non-diet, Intuitive Eating, and Health at Every Size® approach. Our mission is to support and train members on evidence-based research and emerging science to help broaden their skills in identifying, treating, and preventing disordered eating and eating disorders. What's included in membership? You'll access our monthly CE webinars and Round Tables, weekly emails with helpful resources, a vibrant community, and more – and your first month is only $1!
Sign up for membership at www.EDRDpro.com to join our community and save!
Note: CE credits for this course must be submitted to CDR on your activity log and need to be dated no later than 3/22/2023, but you may access course material until July 2023.
MEET YOUR HOSTS

From Struggling to Thriving is brought to you by EDRDpro and The Mindful Dietitian!
MEET YOUR INSTRUCTORS
Fiona Sutherland, ADP, RYT, is an Accredited Practising Dietitian and Director of both The Mindful Dietitian, & Body Positive Australia. She has been practising for over 15 years primarily in the areas of eating behaviour, eating disorders, body image, sports nutrition & education/training. Fiona is a committed Non Diet Dietitian, and is passionate about supporting & educating Health Professionals to develop skills and insight into working with clients from a weight-inclusive, heart centered lens. She is also host of the Podcast "The Mindful Dietitian" and a Sports Dietitian, working with emerging professional dancers at The Australian Ballet School. Fiona is a dedicated mindfulness practitioner and Yoga Teacher, bringing a particular emphasis on mindful eating and the intersection of food environment, eating psychology and body image into her work and training. She has trained in MBSR (Mindfulness Based Stress Reduction), MSC (Mindful Self Compassion) and MB-EAT (Mindfulness Based Eating Awareness Training). Fiona is guest lecturer within the Melbourne-based Dietetics courses across four Universities within the areas of eating behaviour, Body Image, counselling skills and the Non Diet Approach. She is currently also sits on the Australia & New Zealand Academy of Eating Disorders (ANZAED) Executive and co-convened the 2018 ANZAED Eating Disorders Conference.
Margit I. Berman, Ph.D., LP, author of A Clinician's Guide to Acceptance-Based Approaches for Weight Concerns: The Accept Yourself! Framework (Routledge, 2018) and A Workbook of Acceptance-Based Approaches for Weight Concerns: The Accept Yourself! Framework (Routledge, 2018).Margit has a Ph.D. in counseling and social psychology from the University of Minnesota. She is currently associate professor and program director of the Clinical Psychology PsyD program at Augsburg University, and assistant professor of psychiatry at the Geisel School of Medicine at Dartmouth. She is a feminist cognitive-behavioral therapist who has published research and worked clinically using Acceptance and Commitment Therapy (ACT) for eating disorders for more than a decade. She was a recipient of the 2015 Hitchcock Foundation Scholars Career Development award for her research and development of the Accept Yourself! intervention for larger bodied women with depression. She trains clinicians in ACT and self-acceptance based interventions for eating disorders and body image concerns throughout the US.
Janean Anderson, Ph.D., CEDS-S, is a licensed psychologist and author. She is the host of The Eating Disorder Recovery Podcast, an internationally renowned podcast and leading podcast in the eating disorder treatment field. She is a Certified Eating Disorders Specialist (CEDS) through the International Association of Eating Disorer Professionals (IAEDP) and is an iaedp Approved Supervisor. She is the Founder and Director of Colorado Therapy & Assessment Center, an insurance-based, outpatient treatment center in Denver, CO specializing in eating disorders. Recovered herself from an eating disorder, Dr. Anderson wholeheartedly believes recovery is possible!
Course Curriculum
Welcome!
Available in days
days after you enroll
Meet Your Instructors
Available in days
days after you enroll
Lesson 1: ACT – Getting Started
Available in days
days after you enroll