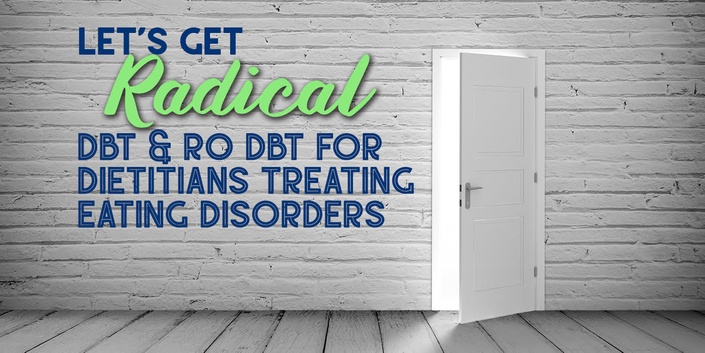 Radically Open Dialectical Behavior Therapy (RO DBT) for Dietitians Treating Eating Disorders
Enroll in Course
RO DBT: Radically Open Dialectical Behavior Therapy - Informed Nutrition Counseling Workshop
Saturday, February 26th, 8 AM – 4:30 PM Pacific Time, online
Replay will be available for registered participants who are enrolled by February 15th.
Live attendance is encouraged but not required.
13 CE Credits – Or register for both DBT and RO DBT bundle for 26 CE Credits (pending approval)
Space is limited - Registration Opens November 1st and closes February 15th.
Unlike our other courses, this course will not be available for purchase again until after June 2022. You do not have to join live; however, you will gain the most benefit from live attendance due to the nature of the training style and experience.
REGISTER TODAY: CHOOSE DBT, RO DBT, OR BOTH!
EDRD Pro Members save $100 off one workshop or $150 off the bundle. Please use the coupon code provided to you in the Member emails or email [email protected] if you do not see it.
RO DBT Workshop – What you will learn:
What RO-DBT is and who it's for
What is Overcontrolled (OC), the difference between self-control and overcontrol (because while self-control is a good thing, too much control can cause problems)
Traits of Overcontrol (OC) and how each one impacts nutrition therapy
Identifying and Engaging an OC client in nutrition therapy
Radical Openness – the Core Skill of RO DBT – how to increase flexibility and openness in ourselves and our clients
How to help our risk averse clients take risks and try something new (when this goes against every fiber of their being!)
How to read and respond to an OC client's social signaling (because OC clients don't always say what they mean)
Why Distress Tolerance Skills aren't what our OC clients need
Game-changing counseling strategies for working with OC clients
5 pre-recorded modules specific to this RO DBT Training
On your own time, you'll add to what you take away from the workshop with the following 5 pre-recorded modules specific to this RO DBT Training:
Meal Planning with an OC Client
Body Image work with an OC client
Perceptual Bias in clients with Eating Disorders
The 4 Stages of Learning: Insight into perfectionism in ED Recovery
Bonus Counseling Strategies
AND… you'll have long-term access to all of the full-day workshop recordings and the supporting video modules for up to two years.
Also included: Handouts, materials, and Q & A time with our instructors.

Meet Your Instructors: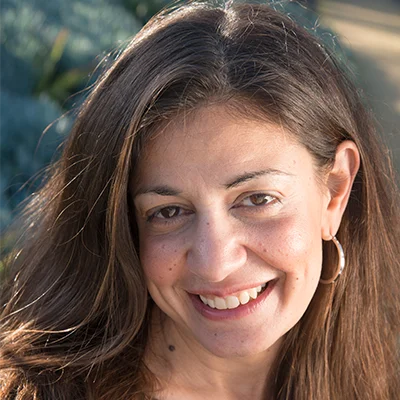 Lead Instructor Stefanie Boone, MS, RDN, CEDRD-S
Stefanie Boone, MS, RD, CEDRD is a nutrition therapist for men and women with eating and exercise disorders. She helps clients heal their relationship with food using a balance between self-acceptance work and change work. She works with clients to help stabilize eating and metabolism, achieve and maintain a healthy weight, reconnect with hunger and fullness signals, dispel nutrition myths and misinformation, and identify situations and feelings that trigger maladaptive eating and exercise behaviors.
Individuals with the Certified Eating Disorders Registered Dietitian certification (CEDRD) are health care professionals who have met rigorous educational and skill requirements, have accumulated a minimum number of hours of qualifying work experience, have made a commitment to stay abreast of current developments in the field through continuing education, and have agreed to comply with the Association's ethical principles.
The CEDRD certification is accredited by the International Association of Eating Disorders Professionals (IAEDP), which works to promote standards of excellence within the field of eating disorders.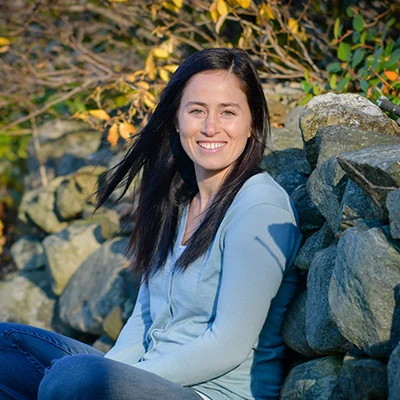 Contributing Instructor Lindsay Johnson, LPC, ACS, MAEd
Lindsay Johnson is a licensed professional counselor, licensed clinical alcohol and drug counselor, and approved clinical supervisor in New Jersey. She completed her Master's in Clinical Mental Health Counseling from Fordham University. She has worked in a variety of clinical settings treating a broad range of concerns but has a strong passion for treating college students and young adults. Lindsay is currently a therapist and the outreach coordinator at Rowan University's Counseling and Psychological Services in New Jersey.
Lindsay has attended several RO DBT intensive trainings and specializes in disorders of over-control. She sits on the RO DBT Senior Clinician Team, working with the treatment developer Dr. Thomas Lynch to become an approved supervisor and intensive trainer for RO DBT. She is currently endorsed by Radically Open Limited to provide one-day trainings. She serves as the team leader for the RO DBT comprehensive program at Rowan University, is a co-investigator on the RO DBT research team at Rowan and has presented on RO DBT at national conferences and other universities. She currently co-leads RO DBT skills classes at Rowan University as well.
Lindsay loves to share her enthusiasm and knowledge about RO DBT with other professionals (and of course with her family and friends!) Aside from all she does related to RO DBT, she also loves yoga, art, competitive sports, music, and displays of spontaneous silliness in public settings.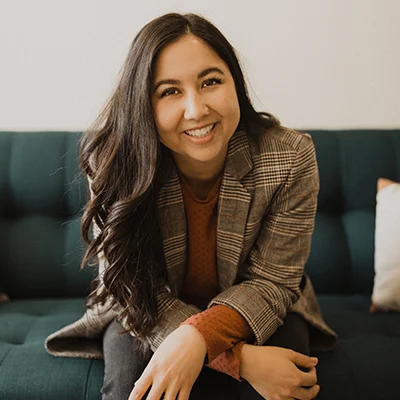 Contributing Instructor Kayla Jessop, RD, CEDRD-S
Kayla Jessop (she/her) RDN, CDN, CEDRD-S is a Certified Eating Disorder Registered Dietitian and an approved Supervisor. She also completed intensive training in RO DBT. She owns a private practice in Salt Lake City, Layton, and Ogden, Utah. She offers individual nutrition therapy, RO DBT skills class for adults and adolescents, supervision, group support, public speaking, and more.
She was introduced to RO DBT in New York City while she was the lead dietitian at BALANCE Eating Disorder Treatment Center. She co-facilitated one of NYC first RO DBT skills classes. Kayla quickly began integrating this new evidence based treatment into her individual sessions and noticed her clients move through the recovery journey at a faster pace. Kayla frequently presents on the topic of treating eating disorders using RO DBT to professionals, folks who are struggling, and treatment centers. Kayla is now ready to give back to dietitians by teaching them how to do the same in her new digital course coming out soon.
Kayla is an expert on Intuitive Eating, Health at Every Size, and improving people's relationship with food. She is an anti-diet registered dietitian who has specialized in helping individuals of all ages regain peace with food and body.
Outside of her passions for recovery, she loves to spend time outdoors with her family or relax on the couch with a good book or TV show. One of her favorite RO DBT skills to teach clients and clinicians alike is called 'The Art of Non-Productivity!' If the title of the skill makes you cringe inside, please join Stefanie and I on our journey of chilling out, relaxing, and being a little bit silly.
Your Instructor

EDRD Pro is a web-based community of dietitians and other like-minded professionals who work from a non-diet, Intuitive Eating, and Health at Every Size® approach. Our mission is to support and train members on evidence-based HAES research and emerging science to help broaden their skills in identifying, treating, and preventing disordered eating and eating disorders.
Sign up for membership and learn more at www.EDRDpro.com
Frequently Asked Questions
When does the workshop start and finish?
The workshop takes place on February 26th, 2022 and the additional materials are available for you to watch at any time after January 22nd. The recordings of the live workshop will be added to Teachable after they are delivered live for you to watch again, or to watch if you are unable to join during the live event.
How long do I have access to the workshop?
After enrolling, you have unlimited access to the workshop content for 3 years - across any and all devices you own.
What if I am unhappy with the course?
We would never want you to be unhappy! If you are unsatisfied with your purchase, contact us in the first 30 days and we will give you a full refund.
REGISTER TODAY: CHOOSE DBT, RO DBT, OR BOTH!
EDRD Pro Members save $100 off one workshop or $150 off the bundle. Please use the coupon code provided to you in the Member emails or email [email protected] if you do not see it.